Product Properties
| | |
| --- | --- |
| Package name | Hyper Backup |
| Application name | Hyper Backup |
| Volume selectable | yes |
| Dependencies | no |
| Service name (SSH) | pkgctl-HyperBackup |
| Shared Folder | no |
| Home Folder | no |
| Licensing | no |
| Hyper Backup support | yes |
| Certificate selection | no |
| Privileges | no |
| Application portal | no |
| Firewall port | miscellaneous ports |
| Date | 10 August 2021 |
| Version | 2.2.8 |
| DSM | 6.2.4 |

Functionality
Hyper Backup is a tool to backup data or LUN on the NAS to different destinations. Retains multiple backup versions. It is also used for restoring data or LUN.
Installation
Install the Hyper Backup package from Package Center.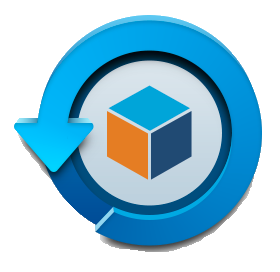 This adds the Hyper Backup application to the main menu and installs a service.
Configuration
In Hyper Backup, you create one or more backup tasks. There are two different types of tasks, the Data backup task and the LUN backup task. Each data backup task has its own definition of folders, applications, and schedules.
You can choose from 18 different destinations for a data backup task, divided into three groups: Synology, File Server, and Cloud Service.
When you choose another Synology NAS as a destination, install Hyper Backup Vault on the destination NAS.
Logging and notification
Hyper Backup has its own logging. For notifications, it uses the DSM configuration that you can set up in Control Panel > Notification. On the Advanced tab, you can configure the notifications that are backup-related.

Stop and run
You can both stop and start the Hyper Backup service from the Package Center or through SSH.
Uninstall and removal
When you uninstall Hyper Backup via Package Center, you are asked to Permanently delete all task configurations in Hyper Backup.
Notes
You can backup a NAS with Hyper Backup to different destinations. Make a separate task for each destination.