Product Properties
| | |
| --- | --- |
| Package name | USB Copy |
| Application name | USB Copy |
| Volume selectable | – |
| Dependencies | no |
| Service name (SSH) | usb-copyd |
| Shared folder | no |
| Home folder | no |
| Licensing | no |
| Hyper Backup support | yes |
| Certificate selection | n/a |
| Application privileges | no |
| Login portal | no |
| Firewall port | no |
| Date | 20 Apr 2022 |
| Version | 2.2.1 |
| DSM | 7.1 |

Functionality
USB Copy lets copy files and folders between a DiskStation and a USB or SD storage device, in both directions. The DiskStation identifies the USB drive and can start a task assigned to that drive. A task can start automatically or manually from DSM or after pressing the hardware Copy button on specific NAS models.
Installation
Install the package USB Copy from Package Center. This adds the USB Copy application to the main menu.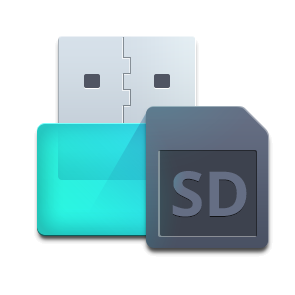 If you use Hyper Backup on your NAS, consider adding the USB Copy application to a backup task to backup settings made with USB Copy.
Configuration
Log in to DSM with an administrator account. Insert the USB drive into the DiskStation and open USB Copy. Create a new task or change an existing task.
Logging and notification
There is both logging and notification in the USB Copy application. USB Copy maintains its log with events of when a task was started and completed.
For each completed task USB Copy sends a notification with the task's name and start and end time. You can configure notifications from USB Copy in Control Panel > Notification.
Stop and run
You can stop and start the USB Copy service from the Package Center. Look it up among the installed packages. Select it and when Package Center opens its page, change its status with the arrow next to the Open button.
Uninstall and removal
Before you uninstall USB Copy make sure that it is not included in any backup task of Hyper Backup. Remove USB Copy from that task to prevent errors during backup. You can uninstall USB Copy via Package Center.
Notes
USB Copy is not available on virtual DSM because the USB port is not virtualized.
Thanks for reading
This post is donation-ware, and I made it to help you. Please consider leaving a comment or buying me a coffee if it did. I will be eternally grateful.
Paul Steunebrink / Storage Alchemist