Product properties
| | |
| --- | --- |
| Package name | n/a |
| Application name | Control Panel |
| Volume selectable | n/a |
| Dependencies | no |
| Service name (SSH) | – |
| Shared Folder | no |
| Home Folder | no |
| Licensing | no |
| Hyper Backup support | no |
| Certificate selection | no |
| Privileges | no |
| Application portal | no |
| Firewall port | n/a |
| Date | 10 May 2021 |
| Version | n/a (part of DSM) |
| DSM | 6.2.4 |

Functionality
It is almost impossible to set up and use your NAS without using Control Panel. It is the central control unit, like the bridge on a ship.
Shared folders, file services, users, and groups are the primary items to set up for file sharing and storage.
Network and external access, including QuickConnect, are for connectivity or your NAS.
Regional options, notifications, task scheduler, and update settings let you optimize your system. Privileges, the application portal, and indexing services control how you use applications on your NAS.
All in all, Control Panel is actually a collection of 23 applets, each with its specific task.
Installation
The Control Panel app is part of DSM. It is always installed, and you can not uninstall it.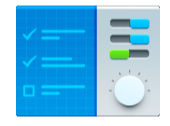 There is no package for it in the Package Center.
Configuration
The Control Panel app is entirely about configuring all kinds of features of your NAS. There is no specific configuration about Control Panel like many other apps have.
Logging and notification
Like configuration, you configure notifications in Control Panel > Notifications.
Stop or run
There is no stop and run option for this package.
Uninstall and removal
You can not uninstall Control Panel via Package Center.
Notes
DSM7 beta shows a significantly changed layout and change in topics in Control Panel.