Your Synology NAS comes with several default applications. The software on your NAS installs these applications permanently for a good reason: you need them to manage your NAS. This post introduces the Synology default applications and their main features to you. Start becoming familiar with these applications today.

Synology Default Applications
There are a few applications that you should know. Maybe you are new to Synology DiskStation or have used one for several years. This post presents you with a list of seven applications you can run from your DiskStation Manager or DSM.
File Station
the file manager of DSM; you can do all possible operations with files and folders, including permissions and sharing
Control Panel
with Control Panel, you are like the captain on the bridge, controlling all kinds of aspects of your system
Storage Manager
gives you all the details about the disks, their health, and use
Resource Monitor
is a performance monitor with a graphical display of CPU, memory, disk, and network use
Log Center
records events for monitoring and troubleshooting
Package Center
lets you install, remove and maintain packages on your NAS
Security Advisor
checks the security of your system against predefined criteria
These applications are admin-only and let you manage and maintain all different aspects of your DiskStation. Let's have a closer look at each of them.
File Station
File Station is the file manager of DSM. You can copy, move and delete files and folders, and you can create folders and set permissions for files and folders.

With File Station, you create a remote connection to another server or cloud service and upload files and folders from your local computer to the NAS. You can create shared links to files and folders and send those links to other users.
For reference, see the File Station datasheet.
Control Panel
Control Panel is a compelling and versatile application on your NAS. Whether you are a first-time user or have years of experience, you will use Control Panel for many management tasks.
With Control Panel, you manage file-related settings, network settings, system configuration, and applications.
For reference, see the Control Panel datasheet.
Storage Manager
With Storage Manager, you monitor and manage your storage. Within a NAS, storage is paramount and consists of drives, storage pools, and volumes.
You can review their status, add a drive to a storage pool or create a new storage pool, start a regeneration process, expand a volume, start data scrubbing or perform similar tasks.
For references, see the Storage Manager datasheet.
Resource Monitor
The Resource Monitor is the place to go if you need to monitor the performance of your NAS. Note that the widgets in the top-right corner of your DSM desktop give you an initial impression of performance parameters, whereas the Resource Monitor provides far more detail.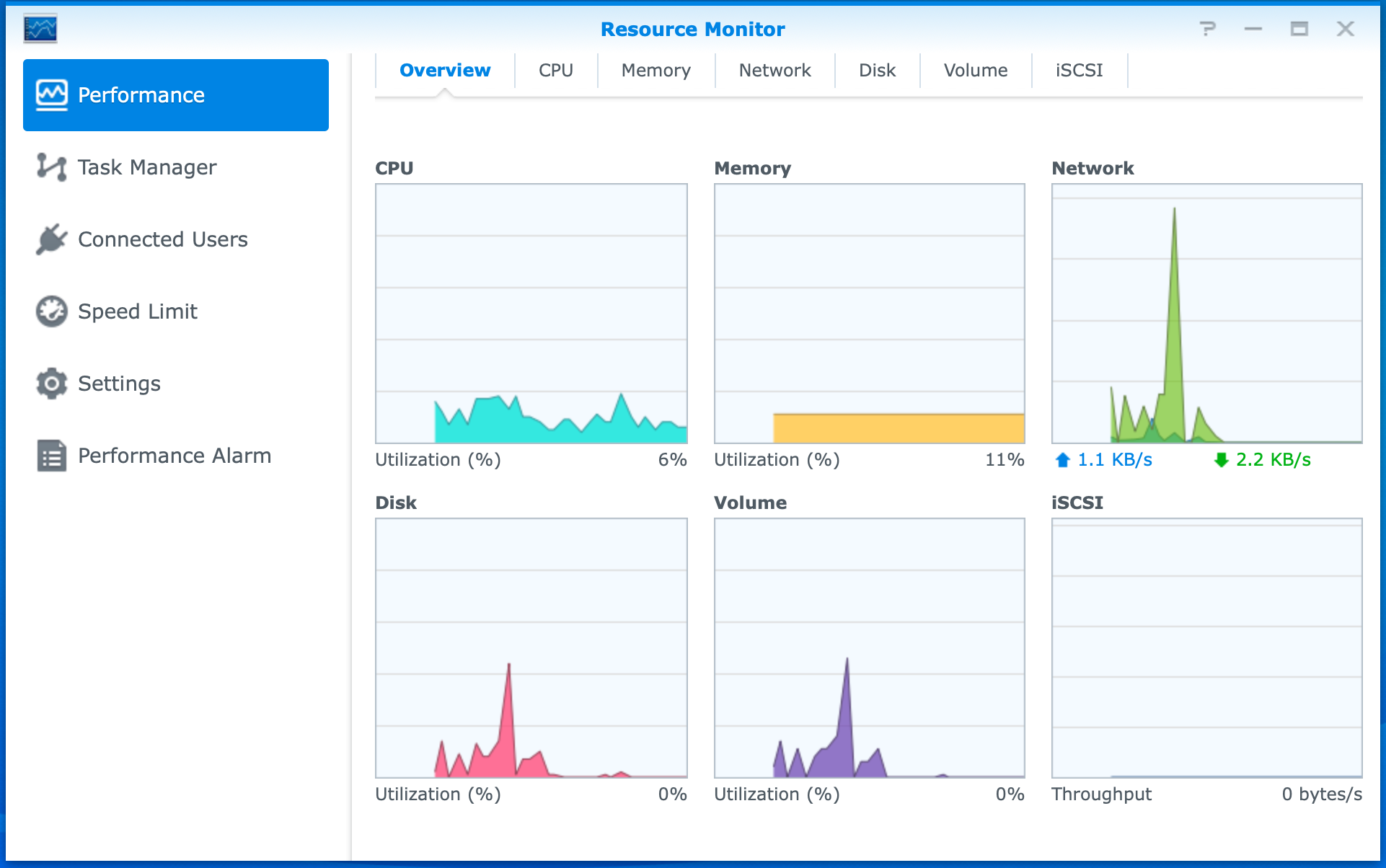 CPU, memory, network, disk, and volume are measured individually. You can review the parameters from an overview page or individually in greater detail. The connected users' page gives insight into who is connected and how.
For reference, see the Resource Monitor datasheet.
Log Center
There are two versions of Log Center, the basic and the extended version. You find the basic version of Log Center on each NAS. If you are a less experienced user, I suggest you stick to the basic version as it is more accessible and less overwhelming.
If you are an experienced user, you can install Log Center from Package Center. After the installation, you have the extended version. You can now archive your logs.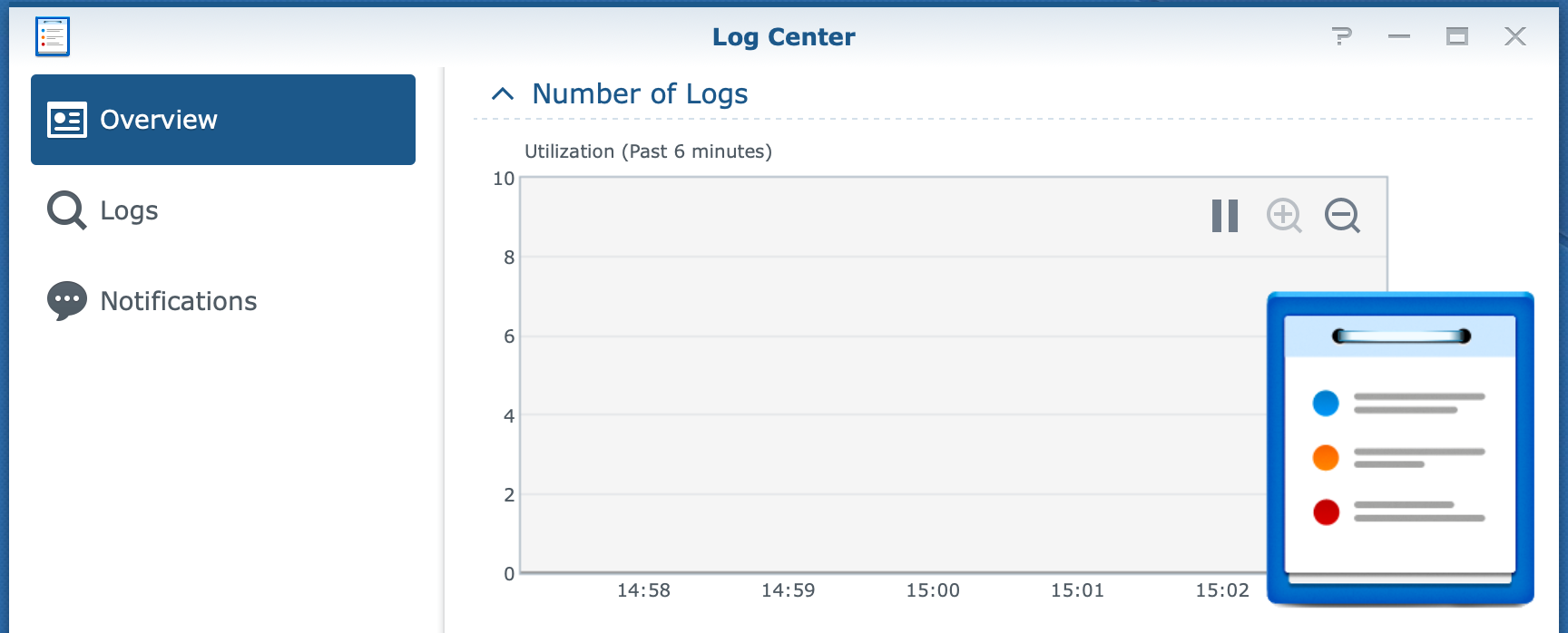 Logs provide vital information about how your NAS is working. The General log contains mostly events from system tasks like package installation and updates. The Connection log has logons with names and IP addresses; other logs are File Transfer and Drive. Note that several applications log their events.
For reference, see the Log Center datasheet.
Package Center
The Package Center is like an application store where you find almost all packages installed on your NAS. Note that there are 3rd party packages that you can download from the internet. You install and uninstall packages from the Package Center and stop and start packages that installed a service.

Settings for package updates are either manually or scheduled. You can display the total collection of packages in categories or view installed packages only.
For reference, see the Package Center datasheet.
Security Advisor
The Security Advisor is a great help for finding and resolving any security-related issues on your Synology NAS. You can scan regularly or scan manually.

Create your security baseline or use one of the two predefined baselines for personal and business use, respectively. You can save the results in a report if you define a location for it.
For reference, see the Security Advisor datasheet.
Thanks for reading
This post is donation-ware, and I made it to help you. Please consider leaving a comment or buying me a coffee if it did. I will be eternally grateful.
Paul Steunebrink / Storage Alchemist